Click on vendors logo to view their website.
110 Volt Fence Energizers
​​​​​​​​​​​​​A 110V Energizer System is the best choice if you have reliable power.
​​All Gallagher 110V energizers have built in lightning protection and are tested under extreme conditions to ensure unbeatable reliability - delivering outstanding performance day in and day out. Our medium and large energizers offer extra performance with low power usage by automatically matching power output to fence load.
Click on the image to learn more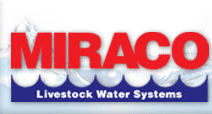 Automatic Livestock Watering Systems
​​​​​​​​​​​​​​​​​​Miraco has been offering healthy, clean, fresh water systems since 1974. ​Miraco perfected energy-free watering systems and was the first to manufacture automatic livestock waters from poly materials. Join other livestock producers and pet owners who enjoy the innovative features of Miraco Watering Systems.
Click on images below to learn more